Special Offers on Teas from Tinderet, "the place of lightning"
5 February 2016
With the damp and darkness of January already behind us and quite possibly all the good intentions of healthy lifestyles and gym memberships faded since the New Year we felt we should start the journey around our four farms with Tinderet, home of our Green Teas and hopefully remind everyone that the easiest way to making a step towards a healthy lifestyle is to start the day with a cup of Green Tea!
Found high in the Nandi Hills up a winding dirt road, Tinderet is thought by many to be our most beautiful farm. Surrounded by ancient primeval rainforest and beautiful hillsides, but with everything in life beauty comes at a price and Tinderet is known locally as 'the place of lightning', with powerful rain storms often hitting the farm. It is this regular rainfall and deep red acidic, ancient volcanic soils that make Tinderet perfect for producing our Green Teas.
The calm after the storms seem to give rise to a characteristically aromatic and clean, crisp tea that has been found to be packed full of antioxidants, which can help with the body's natural health and wellbeing. A storm in a teacup!
Green teas are unoxidised and once plucked are carefully withered, rolled and dried to lock in the anti-oxidants and individual flavours. Our Pure Green Loose Tea has the scent of a rain storm hitting the tea bushes in the evening sunlight, offering a mellow and cleansing taste that simultaneously revitalises and soothes.
Pairing our Pure Green with our bespoke Oil of Bergamot to create a special green tea with the flavour of Mediterranean Bergamot Oranges. Unusual and stimulating, perfect for those addicted to the taste of our iconic Earl Grey.
To celebrate Tinderet, we are offering 20% off all of our Loose Teas and Loose Leaf Teabags! Simply enter;
LIGHTNING-FARM-20
And receive your discount. This promotion will run until the end of February so we recommend ordering soon to avoid disappointment.
Taste the lightning with teas fresh from the beautiful slopes of Tinderet!
As with all of our farms our Williamson Tea Foundation is firmly rooted in the everyday life of Tinderet, from the provision of housing, health care, education and recreation facilities, all helping to ensure our workers are cared for and work in a good environment.
Its not just our own employees that benefit either from the Foundations work, the local Nandi community have also been supported through our "Out Grower" initiative sharing advice on agricultural crop husbandry as well as funding improvements in educational facilities for the otherwise remote communities.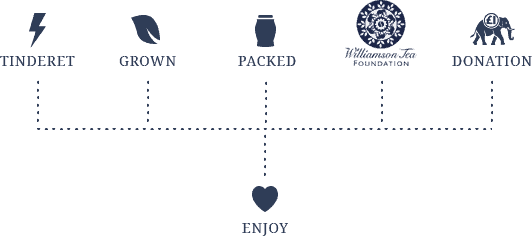 Tinderet is home to a great number of Colobus and Vervet monkeys, who live in the primeval rainforest we maintain on the edge of the farm.
Some of the trees within the forest are estimated to be over 200 years old. Rarely seen a lonely bull elephant is also known to wonder the forest, occaisionally venturing down towards the tea fields but so far eluding our cameras whenever we've tried to photograph him!
Tinderet holds a very special place in our hearts amongst the four farms, be it the forest covered hillsides, the light green fields of tea or the just the sun setting on another beautiful day. We hope that you will take up the opportunity to try Tinderet's special teas.