Kenyan Earth
Our take on the classic English Breakfast. Kenyan Earth is named after the coppery red soils that symbolize Kenya and this bright, brisk cup of tea.
Grown on the high altitude slopes of Kapchorua and picked in the early morning sunshine our Kenyan Earth is an awakening, full bodied liquor that stimulates the body and mind.
Earl Grey
This fragrant tea lingers in the mouth with the subtle aroma of Mediterranean Bergamot oranges and the delicate taste of our Kaimosi farm as the smell of rain hits the tea bushes in the afternoon, combing to produce our iconic Earl Grey.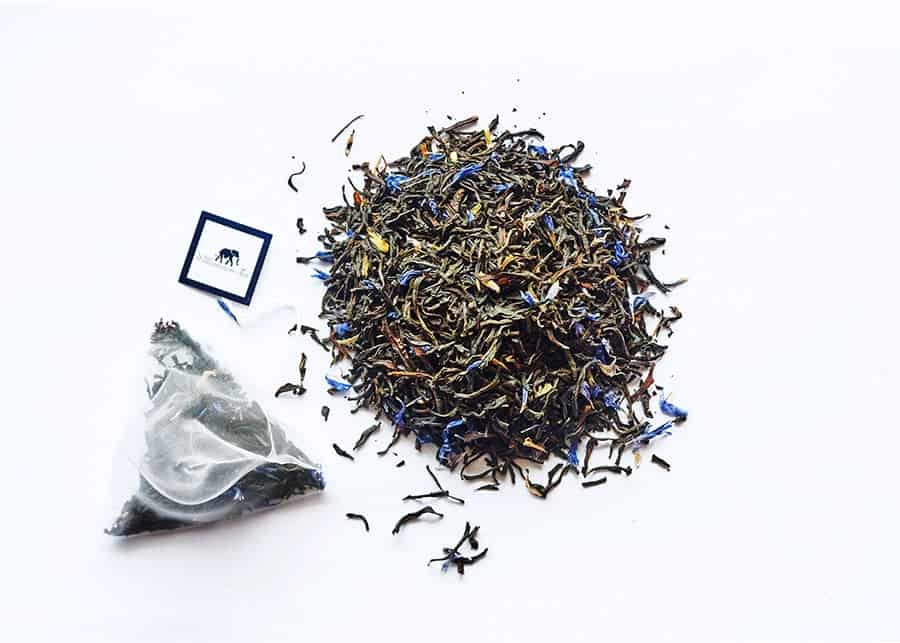 Earl Grey with Blue Flowers
Matching the delicate and fragrant aromas of our iconic Earl Grey we have added Blue Cornflowers to make a tea that is as beautiful as the farm that it is grown on.
Duchess Grey
Exclusive to Williamson Tea, our Duchess Grey is grown on Kaimosi and combined with a custom made citrus oil to give an aromatic fruity scent with an unusually delicate liquor.
Ginger Grove
An uplifting and warming tea. Fresh teas grown solely on the slopes looking down to Lake Victoria on our Kaimosi farm are carefully selected and then combined with real ginger pieces to create a tea that is revitalizing yet soothing for the body.
Lemon Sunshine
A zesty and freshing tea that is grown on the hills over Kericho on Changoi. Our artisans choose the bright early morning sunshine to pick the finest tips, which are then infused with real lemon peel and natural oil to produce an indulgent and uplifting tea.
Purple Matcha
Our Purple Matcha is grown on our Changoi farm. Known as our 'Solar Farm' Changoi receives high levels of sunlight and with its rolling topography makes for the perfect place to grow our antioxidant packed Purple Tea. With a nutty, almost caramel flavour, our Purple tea leaves are stoneground to produce this unique Kenyan Matcha.
Green Matcha
Our Green Matcha is grown on our Tinderet farm. Known as the place of lightning, Tinderet is famed for its revitalising and refreshing teas that are grown on the high altitude ridge lines of this picturesque Kenyan farm. This Green Matcha is stoneground from their unique Ejulu Tea leaves, that contain very high levels of antioxidants, giving a light and inspiring flavour that can be used to give a sustained energy boost whilst providing relaxed alertness.
Apple & Spice
Fresh black tea from the high altitude ridgelines of Kapchorua combine with the rich aroma of apple and spice to give a sweet fragrant taste that lingers on the tongue. Kapchorua is recognized as growing brisk black teas with distinctive floral high notes, perfect for pairing with delicious tasting fruits and spices.
Berry Infusion
Fresh black tea and beautiful red cornflowers from the high altitude ridgelines of Kapchorua combine with juicy strawberry and cranberry pieces to create a rich and colorful fruity infusion. Kapchorua is recognized as growing brisk black teas with distinctive floral high notes, perfect for pairing with delicious tasting fruits and berries.
Cleansing Mint
A light aromatic flavor that cleanses body and mind with a soothing, beneficial brew. Naturally caffeine free and refreshing. As farmers committed to truly sustainably grown tea we source all our infusion ingredients from partners who share our values, ensuring that our T-Tonics are produced just as sustainably as if they were grown on our own Kenyan farms.
Kenyan Sunset
The taste of a sunset over Changoi, this rich black tea combines with the natural spice of cinnamon to produce an infusion full of flavor and enriching to the soul. Where better to watch the sun go down than our 'solar farm' Changoi and enjoy sun soaked teas to relax at the end of a busy day.
Peach Tea
Fresh black tea picked from beside the forests that border Kaimosi infused with juicy peach. Forest edge teas seem to have a distinctive strength and character that pairs well with our bespoke oil of Bergamot to make our Earl Grey and Duchess Grey teas, as well as our other flavoured tea varieties.
Yerba Mate & Green Tea
An energizing blend of fresh green tea from the slopes of Tinderet and Yerba Mate that creates the perfect pick me up for a busy lifestyle. Tinderet's unique microclimate produces green teas of note. You can almost taste the rain soaked slopes and feel the uplift from the combination of green tea an Argentinian Yerba Mate.